Petzl Rock Trip 2011 China
Petzl Roctrip 2011 China
Dude get ready, you're going to China!
Whattt?
Where?
China?!
Huh?
…..
My conversation with Öztürk Kayıkçı started like this, and I actually did end up going to China.
The dream started with Öztürk suggesting me and Zorbey Aktuyun for The Petzl Turkey Team set by Petzl Turkey Toros Kamp; It wouldn't have crossed my mind that we would participate in Roctrip China, be part of the Petzl team and travel to the other end of the world before that.
After being selected for the Petzl Team set by Toros Kamp, we completed our preparations and with the flight tickets and financial support Toros Kamp provided, got on our way to this year's Roctrip taking place in China. We saw photos and videos of it all the time, but what was Roctrip?
Roctrip is an international climbing festival organized by Petzl. The main aim is to bring The Petzl Team, made of the top climbers of the world, and all climbers together in fantastic locations around the world. The first one took place in Millau, France in 2002. Then each year new places followed: Bishop, California 2002, Millau, France 2003, Gunks, New York 2003, Millau 2004, Sheffield, UK 2004, Squamish, British Columbia 2005, Millau 2006, Kalymnos, Greece 2006, Red River Gorge, Kentucky 2007, Millau 2008, Zillertal, Austria 2008, Millau 2009, Jilotepec, Mexico 2010 and Getu He, Guizhou, China 2011. We, Mumin Karabas and Zorbey Aktuyun, as the Petzl Turkey team participated in this event held in China with the support of Petzl Turkey Toros Kamp. Being selected to be with the top athletes of the world in this team and be part of this organization was something I had dreamt of for years coming true. This year about 42 athletes from all around the world were invited to Getu where 250 new routes were set. Among them were, off the top of my head: Lynn Hill, Florence Pinet, Liv Sansoz, Nina Caprez; Melissa Le Neve, Stephanie Bodet, Emely Harrington, Chris Sharma, Dave Graham, Dani Andrada, Gabriel Moroni, Sean Villanueva, Tatsuni Nitta, Toni Lamiche, Gerome Pouvreau, Loic Gaidioz, Daila Ojeda, Said Belhaj, Michael Fuselier, Joe Kinder, Philippe Ribiere, John Cardwell, Sasha Diguilian, Enzo Oddo, Steve Mc Clure, Daniel Du Lac, Arnaud Petit, Ethan Pringle and many others...
I had planned to fly to İstanbul from Dalaman on October 18th 2011, but the Dalaman flight was 3.5 hours late and had me missing the flight to China! No kidding! Had never ever missed a flight in my life and this one was an expensive lesson. As Zorbey was daydreaming of Roctrip on board to China, the ticket Toros Kamp got for me was no longer a dream coming true, a blanck sheet of paper instead.. How could I fill in the blanks?
My dear employer Caner Odabaşoğlu, owner of the company Macera Akademisi, bought me a new ticket and put me back on track with my dream of China. I bought my domestic flight in China with the sponsorship of my credit card. This trip which was quite expensive for me got me to the hotel we should have met with Zorbey at in Guiyang. The fact that Zorbey wasn't in the room he should be in and the receptionist didn't speak any language but Chinese got on my nerves a bit, well maybe more than 'a bit'. I called someone from the Petzl Crew and got transferred to a new car. 9:00 AM next morning! Good news.
The next morning I woke up early and met Sam Bie, Edouard Bouvet and his girlfriend, Gerome Pouvreau and Florence Pinet at the airport. After a long trip, summing up to a mere 6 hours of sleep over a 3 day journey, I made it to Getu. The moment I got to meet Zorbey we both laughed at the fact we were so glad to see each other. A quick Chinese beer, conversation with old and new friends and settling at the hotel, lack of sleep, excitement, having arrived in the dark and being shocked at the view in the morning, tomorrow's climbing, everyone's here, where are we, the other end of the world, 'so we are here- what next?', 'are those dark silhouettes hills?', 'take!', jet lag.. had these in my head when I found myself having breakfast at the Petzl Base at dawn after only a few hours of sleep. By breakfast I mean noodles with soy sauce! It was my first and last breakfast of the trip. From then on, biscuits and such snacks, coffee when I could get any, if not, green tea..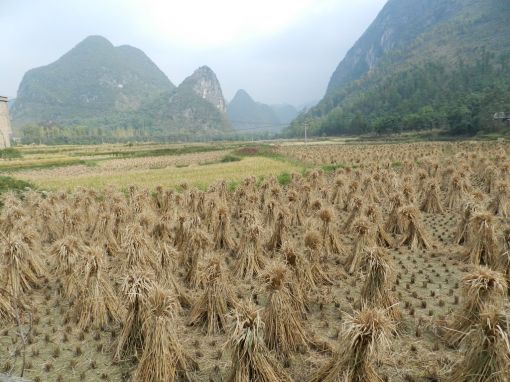 The family pension at the entrance to the village had become Petzl's main gathering point. This is Petzl Base, we the athletes stay at the hotel across. Breakfast and dinner is at Petzl Base, sleep at the hotel but noone's sleeping. It's incredibly lively around, everybody's here. Those who aren't will be in a few days. We had thought we were early but apparently we were among the late arrivers. After a quick breakfast our destination is The Arc. 'What is this? Whoa!' was my first reaction. 'Dude, look at the rock..' and The Arc greets us 'Welcome'. What I had seen before was nothing. We crossed the strait on boat and climbed 1363 steps to get to The Arc. Godd.. What the heck.. So there is a climbing sector like this? Those hills must go all the way to Turkey. Wonder if they're connected to the Taurus Range? Don't be ridiculous! This is China, the other end of the World! Ni hao China!!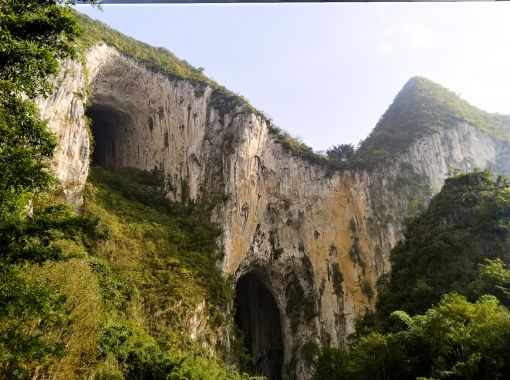 To put it in a single word: FANTASTİC!!!!
Colonnade structures where the limestone is white and there are large holes combined with a major overhanging section created an incredible climbing style at The Arc.
Having a go at a 7a route got us to understand how we were strangers to this particular style. Coming next, a 7c+ totally welcomed us to The Arc.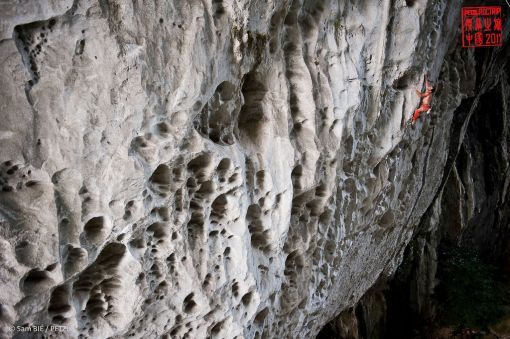 After a short day of climbing we returned to the Petzl Base and sat on the dinner table. Who isn't on the table? It's both splendid and difficult to try to eat at the same table with the world's best climbers. Everyone's strong and starving! A spoon could have made things easier. Does anyone know how to use these sticks? I'm from Adana, may I make a roll of this food? No bread? How come? Are we going to eat rice? I can't get full with just rice..  I rushed to the grocery store but it's hopeless.. I will work for the next dinner. My second shots are better. Fortunately beer flows like water -and is cheaper than water.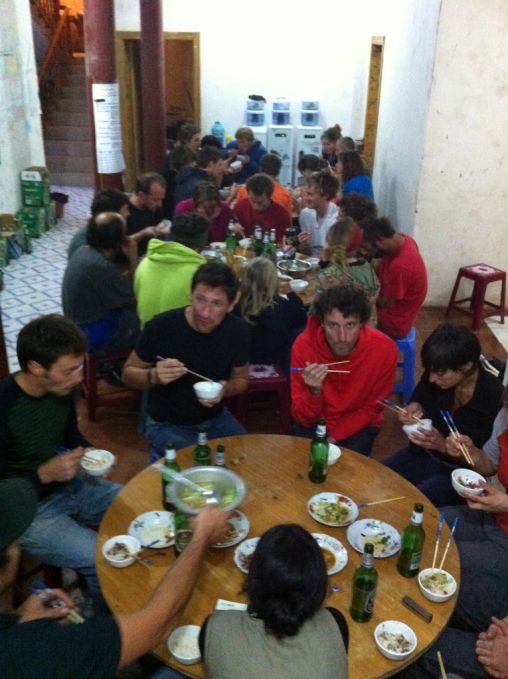 The second day Tony Lamiche guided us to Banyang's Cave Sector through rice fields. On the way to the sector, hiking through the village and rice fields, it feels like time passes at a date way back in history. The places we go to for climbing are tiny villages, way different than the metropolis. People were spending most of the day (5 year old kids and 75 year old grannies in the same field) working in the rice fields and the rest of the day helping out with the organizational tasks for Roctrip. Some have grocery stores, some run bistros and such small entreprises.. 
With the French Team at Banyang's Cave Sector we climbed routes of a style that suited us better. Slightly overhanging, colllonade structures, as in Geyikbayırı. The style suited us but our bodies didn't suit the time zone and 7c+ routes provided nice reminders of jet lag.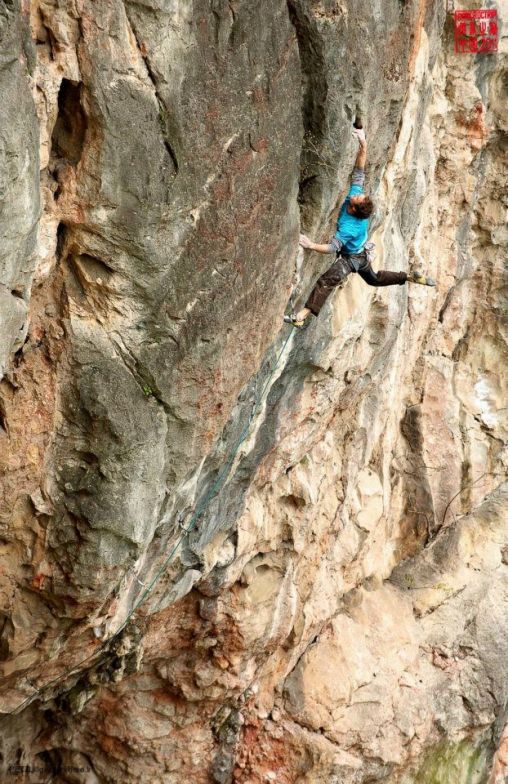 In the evening all athletes gathered and tasks were distributed for the final preparations towards Roctrip.  Erwan (responsible for organization and international sponsorships, and the man who organizes Roctrip) asked what our plans for tomorrow was, and I was like: 'Uhh.. well we.. umm Didi what are we doing tomorrow?' The result: we need to get rid of the large rocks at the Pussa Yan sector using a lever! Whattt? Off goes our rest day.. Active resting is good for you.. After a whole day of clean up when we returned to Petzl Base in the evening we got our places in the team as the heroes of the day and blended well into the crowd.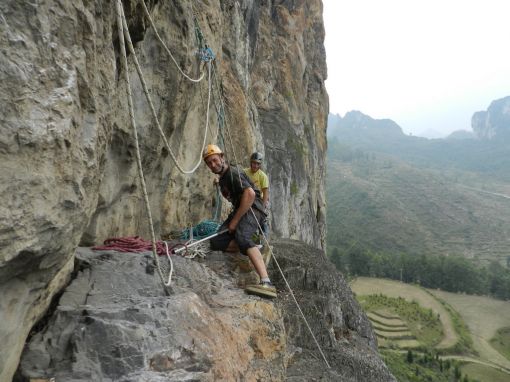 Roctrip started with an opening ceremony, registration, tests on your climbing abilities, courses, workshop and clinics.
When we went for registration we were given Roctrip bags full of stuff like a pair of chopsticks, a guidebook, flask, t-shirt, poster, cap.. In order to validate your guide, you need to attend a test at the climbing wall under the surveillance of trainers. After getting tested on putting the rope through the maillon and rappel off the anchor, clipping quickdraws, belaying and such, you get a wristband that suits your experience in climbing, get your guidebook stamped and head off to the sector. Thank god we didn't take this test, just watching brought back memories of exam stress from several years ago. We got validated by trainers who knew us.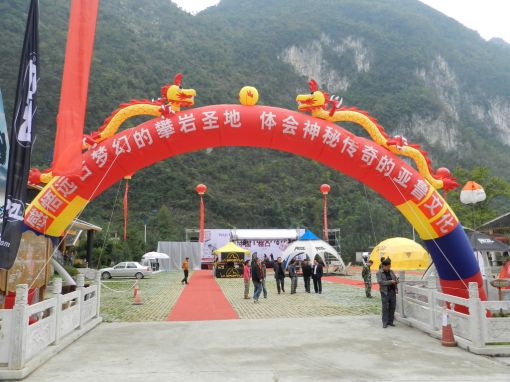 We started climbing full throttle at the Buddha Sector on the way to The Arc but Dani Andrada'nın 7a route got our feet back on the ground. We made a large turn to The Great Arch and got our spots on stage. Had a good day of climbing and headed back home. It was home by then, because we spent most of the day there with the whole team. Food, internet, conversation, planning climbs, party, the center of everything, Petzl Base was like home to us..
The next day, rain pouring and Dave Graham commenting that the weather is no good for climbing and convincing the whole team to have a rest day lead to throwing the party in my opinion. After a night when the whole team drank liters of baijo (local rice wine) and danced through the night, it is absolutely normal that everyone climbed full performance the next day.
After each day passed complete with daytimes full of climbing and evenings full of movie screenings and slide shows, I can say we saw the true face of Roctrip when the last day came. We as all of Petzl Team's athletes gathered at the Great Arch Sector and climbed. Climbing and competing at a scene where hundreds of people are watching.. Part of the team climbed multi-pitch routes while others spent their time on single sports pitches.
I as a Turk got to take part in both. First, there was a video shoot at sports routes and an interview for the Roctrip film. The fact that we were the first Turkish Team on Roctrip got attention. Later with Daniel Du Lac we climbed Nihao Wokepa. This 5 pitch route to the left of The Great Arch took us 2 hours. As we climbed the last pitch and rappeled with Petzl headlamps and descended to dinner the third hour wasn't complete yet. The grades for the five pitches are:
1st pitch: 6c+
2nd pitch: 7c+
3rd pitch: 7c
4th pitch:  7a+
5th pitch: 7c+/8a
Later we climbed this route with Zorbey. We couldn't climb free on the second pitch only. The rest were clean of falls. I flashed the last pitch when climbing with Didi using a headlamp in the dark. Therefore I find the grades quite soft. Whatever.. It was more about seeing the excellent view from The Great Arch and to gaze at the distant hills of China from the heights than scoring.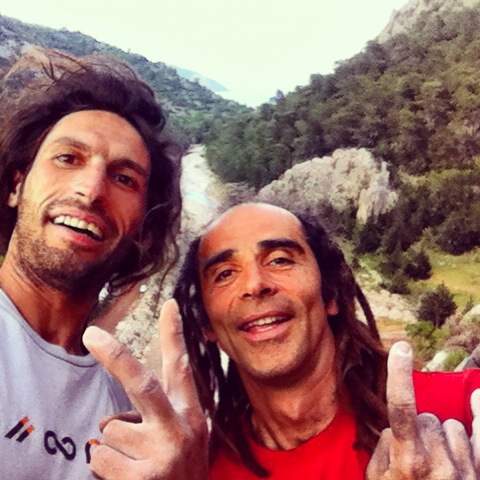 The party began after the closing ceremony following dinner and our thank you note as the Petzl Team athletes for Getu: Each athlete held a letter to form a text saying thank you to Getu and the organization from Erwan. Free baijo and beer accompanied with excellent music! Plus a dance show from the best climbers in the world...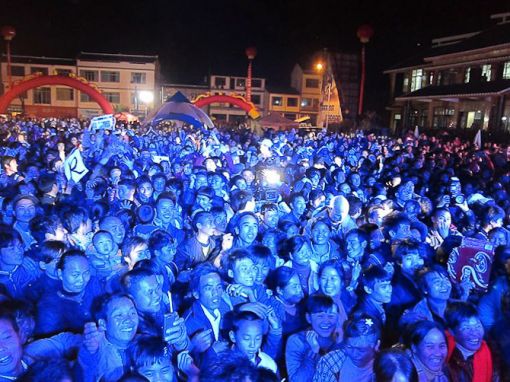 As the Chinese folks who saw us got on stage as well the police has a very hard time keeping the crowd away. The stage almost collapsed. Just when the scene seemed to calm down a bit I and legendary climber Lynn Hill fired it up again by dancing in front of 2000 people on a high platform above the stage to the live performance of Said Belhaj. I could say we made history with the dance performance of me and Lynn Hill. After this, the rhythm of the party went on till morning. We had fries towards morning and went to the hotel but didn't get much sleep..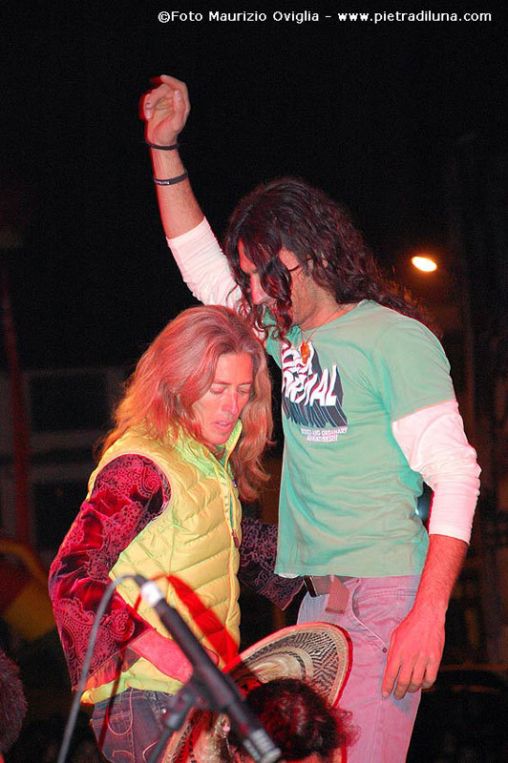 At the end of Roctrip some climbers returned home, we and those who stayed focused on climbing. Climbed at sectors other than The Great Arch. Had a good time with the remaining team and made good friends. Said goodbye to the 8b, 8b+ and 9a routes we tries but couldn't finish at The Great Arch and other sectors and took a long ride to Yangshou climbing area-this is another story so I'm not writing about it here. Spent 3 days there and after another 3 day journey I got back to Adana.
Especially my trying a 9a was quite a scene. Since there is no climbed route at this grade in Turkey I wanted to try and compare the difficulty. It feels good. Because they divided the route in two for me. After jamming a knee bar and resting on the first section 8c/8c+ comes a tough 8b! In total, it's graded 9a. I asked for help before I set out to try the route, so several good climbers were there to support me and provide beta. Nice scene.. Wish I hadn't left it to the last day. Next time..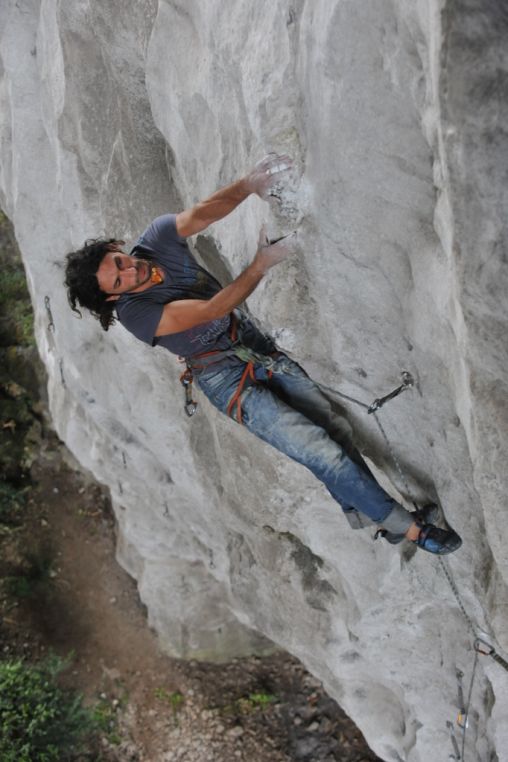 I tried to sum up a small part of Roctrip which was intense for me. I will keep telling the longer story beneath the rocks, while drinking coffee inbetween project attempts. You're invited.
Love from Adana, the city of heat, smoke and kebab!
Transportation to Roctrip;
The best way to get to China would be to fly with a Turkish carrier in my opinion. We used a bunch of Chinese flights and had some troubles. (Not being able to make changes to bookings, baggage issues, trouble boarding, the plane landing in the middle of a flight shifting passengers and continuing the flight, spending 3 days for 4 transfers to İstanbul from a city where a direct flight is available etc...) Dealing with these can be quite problematic on long distance journeys. My advice would be to pick a good firm and fly direct. When you get to any city in China, Guiyang is the closest airport to Getu, the village where Roctrip was held. This part is roughly a 6 hour drive! If you'd like to come by bus, go to the bus terminal from the airport. You can take a bus to Ziyun. This one runs twice a day. If you miss the bus to Ziyun, you can go to Asshun and make it to Ziyun from there. From Ziyun there are minibuses to Getu which take about 1.5 hours.
This trip costs about 140 yuan in total. A taxi would cost around 600 yuan.
Accomodation at the Roctrip:
We stayed at the hotels arranged for us.
A two star hotel costs around 200 yuan per room a day.
Lower star hotels cost around 100 yuan.
Pensions without stars cost around 60 yuan for a room.
Accomodation prices for various budgets are available.
What you should look for is a hot shower and a comfy bed. 
Little survival notes for China:
This might be the most crucial part of this report.
Most people do not speak any foreign language. It is almost impossible to get along using sign language. To ask the place you are going to people or cab drivers you have to have it written in Chinese characters!
The currency is in Yuan. 1000 Yuan make about 290TL. China is quite cheap. Therefore watch out on your expenses. For example you can have breakfast for 2TL and dinner for 7TL. This makes everything appear very cheap to you and you may end up going to an expensive restaurant and paying 30TL. It s easy to be extravagant when everything seems cheap. 
The breakfast culture is based on noodles-no cheese and olives! Watch out. You may get sick of noodles day after day.
The food is spicy and greasy. Going veggie may be a good idea. Dinner is made of rice and something with vegetables that's hard to identify. Could be dog meat, mushrooms or a chicken long turned blue. But I can generally say it tastes good. It's generally not sterile so people from Europe get sick at least once a week. It may be a good idea not to see your food getting prepared. Everything gets fried in the same pot using oil that has been used a hundred times already. Later laundry may be done in the same pot.
The weather is generally humid and you might end up wearing a t-shirt and a down jacket the same day, keep that in mind.
In China you need to negotiate for almost everything. That includes the duty free shop at the airport. I bargained my last buys.
Credit cards are troublesome in most places and you get charged a commission when you shop with them. We had problems often.
Don't forget we spent time in small villages and not cities. These may not apply to major cities at all.
Video of Roc trip;
Petzl RocTrip China 2011 - The official movie from Petzl-sport on Vimeo.