Climbing in France
I've been on the road again lately.. Destination France, the land of champions..
I crossed the northern end of the World towards the South through Poland and Germany and finally got to Lyon/France. A long and strange journey that lasted two days and thousands of kilometers in a bus full of dancer chicks.. Don't assume one can't be that lucky when hitchhiking, anything could happen in my life.. thousands of kilometers with that many dancers.. that's another story.
March 17 2012 late at night we reached a little village near Lyon called Vaugneray. I stayed here for seven nights and went climbing almost every day.. It is possible to get to several crags within half an hour of driving around Lyon but since it was my first time there, didn't have a car or know that many people, I decided to go climbing at a gym. Afterall it was a gym that used to be the biggest in Europe at some time.. How big could it be, need to go see for myself..
I spent the whole morning till the afternoon going around in the village trying to learn how I could get there.. The French can be an odd bunch.. now I see what the proverb on all things French stands for better..
-Are there any buses leaving from this village? I'd like to go to Lyon.
-Hmm.. Bus.. Could be.. You don't have a car? Hmm.. I don't know..
Or they answer shooting out words in rapid French..
With my familiarity with French consisting of the bunch of words I can associate with words we use in Turkish, and a bit with the help of Google France (Even Google is odd there) I tried to get by. Hitchhiking, bus, underground rail and though it was a bit troublesome, I got to the gym at last..
Le Mur de Lyon:
With a climbing surface area of 2200m2, the 14m high wall has 90 lines for climbing and a 750m2 bouldering wall, totaling up to some 290 routes and a huge work of art.. There is a sauna, a sports hall, restaurant, climbing shop, adventure park in the gigantic building for a variety of activities. For more information on the wall you can check out
Especially the panorama is very impressive..
http://www.lemurdelyon.com/menu/333/panorama-360%c2%b0/
This is how the building looks from outside: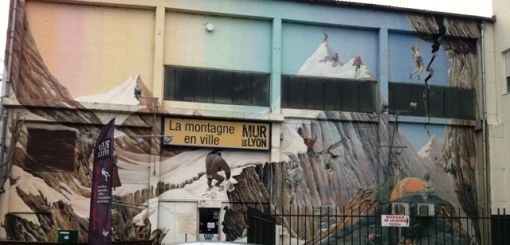 Encountering a wall so big my blood pressure went down and I fainted at the entrance, of course they woke me immediately.. 
Get up you need to pay the entrance fee, you can't enter before you pay.. How much?
13,5€! Whaaatt!!!
Man, I know the owner of this place.. Where is François? His brother is a close friend of mine, I e-mailed him, he knew I was coming.. Who are you, where is the boss? Bring him in..
Coming down the stairs is the French champ; François Petit…
Howdy dude, I came but there was a fuss at the entrance, shame, weren't you telling me to just drop by and that your place was my place.. what then..
I didn't say these of course.. The legendary climbing champion in front of me, talking to me.. here is the real story
AT the times we climbed together Arnault Petit kept bringing up that his brother had a climbing wall and that I could visit whenever I liked.. So I e-mailed them from Turkey and agreed to set routes in return of using the wall and working there.. But then I postponed my trip and missed the week for setting new routes so we made a new agreemet.. after a brief chat with François Petit he showed me around the wall and had a little stroll in the gym.. Since new routes were already set and there was no work to do, the boss did me a favor by saying 'Just go ahead and climb, you'll work when you come again layer, no need to pay for now'.. Such gestures aren't very common in Europe but people try to support other climbers they know.. I suppose it is because most good climbers go through tough times that they try to support another in need as much as they can.. They say champions have warm hearts..
I got over the shock of the champion and started examining the wall but then the culture shock struck me even more.. About 250 people climb simultaneously on the wall, say it would be an average of 500 people per day, 13,5€ each, totals to.. The expenditures, then the extra income from the restaurant and the gear shop, cool, makes a lot of money.. Should we start a gym?.. It is none of my business but because I am Turkish my mind immediately drifts in that direction.. Change rates, multiplication tables and calculators aside, I focus on my climbing.. Have no idea where to start, the wall is so big, I just stare confused with empty eyes.. I am not used to seeing such gigantic walls back in my country so I need something smaller, I turn to the bouldering area. Everything is clear, all routes distinguished with color and tones mark grades.. For example blacks stand for 7C-8A, whites 7A-7B+. All you need to do is find the color that suits your level and follow holds of that marking. The routes range from grade III to 8b+, all different styles, a bunch of good routes. With the shock and weariness of the first day I bouldered for hours and finished the day by trying a few routes on the main wall..
The next day, having learned the means of transport, I travelled with ease to the climbing shop. I have seen several climbing shops in my life but never 10 different ones on the same street.. I confidently walked into the first one only to find out they only sell boots.. Immediately transported to the second, camping gear only, canyoning on the third, skiing on the fourth, packs on the fifth, clothing on the sixth, seven.. I am getting tired. Man I want climbing gear, where is that? The last? I'm done.. I'll hit the gym if I can get out of this street.. I went through all shops to eventually get to the one dedicated to climbing.. The smallest of shops has two storeys and hundreds of square meters.. they sell like supermarkets.. I'd like two kilos of tents, three kilos of quickdraws, five kilos of rope, oh and a packet of rock shoes.. What the.. My blood pressure is going down again, need to sit.. I think I'll faint..
-Monsieur are you ok?
-What, good? I am shocked, give me water or I will make history as the first customer to die because of a heart attack within the shop..
The size of the shop was overwhelming to me so I called it a day and sailed off to land I knew, saying I'd come back.. Since the wall closed at 00.00AM I spent the whole day and night bouldering, simply trying every route like a dog off the leash, and got the attention of a local French group of climbers. They gathered around me and onto me- Afterall I was fresh blood to them.. With my French with an Adana accent, I was the center of attention..
Where does he get the motivation and strength? Turkish? Must be faith!
I did a couple of tough routes via kebab power and showed off Turkish strength but later they came back in a larger, stronger group and played me around like a ball.. Going for this route and that, started to drain the batteries on my forearms.. As I started to lose my bets on the routes we moved on to the bar. I left the gym late due to alcohol, conversation and the ease of having learned the way. Missed the 22:30 bus by 2 minutes and boarded the 23:30 bus, but well, apparently the last bus to the village I was going to was on 20:30.. No explanations on the timeline at the bus station though.. It's France, everything is strange.. For example, all around the world blue signs are for free roads , green stands for paid highways, but in France it's the other way round.. You might end up thinking the blue sign will take you to a free road and paying 40€ for 250km..
Since there was no bus to the village I was going to I took the 23:30 bus halfway and walked the last 6.5km late at night, in the dark, through ridiculous alleys, only to get home to an extremely worried household.. The French.. None thought of calling me and picking me up by car.. At home I cooled my feet in the fridge and tried to sleep towards dawn with my feet heading up.. My body was shaking with weariness when I woke up to the morning prayer call.. That proverb- Feet suffer when the mind  fails to work.. Take..
With the French standards of living I was quickly adapting to, I got along daily routines well. Wake up early and take an incomplete breakfast, a few hours later have lunch with at least three glasses of wine, go to the climbing gym and get your daily workout, have a late dinner and at least a bottle of wine, end up falling onto the bed.. I am getting used to this..
After the hiking adventure of the day before I took my host's second car, a Renault Twingo to the gym.. Raised my standards.. Found a small parking spot across the gym but got stares implying the car wouldn't fit in there immediately after.. Since I am not good at reverse driving with cars I am not accustomed to I managed to diagonally fit the car inbetween the other two. The rest I handled by raising the car from the rear end and dragging it along.. Having done that right across the gym got me a huge applause and a glamorous entrance to the gym.. A Turk, what do you expect.. Since car dragging got me well warmed up I rushed into the unfinished boulder problems from the day before.. I was quite well adapted to the wall by then so I sent a few good routes and got back the beers I lost the day before.. But the higher wall wasn't that optimistic.. I still couldn't adapt to the French climbing style with excessive knee lowering.. My knees already hurt from long night walks, then trying to turn my knees till they'd crack wasn't much of a success.. Need more wine to get a hold of the style..
I decided to take a day off to rest but hanging out for active resting ended with pain in the knees. Along with my knees I had a ringing in my ears, someone was talking about me..
The conversation between my French buddies Daniel Du Lac and Nicolas Nastorg:
Didi:
A Turkish climber friend of mine is here these days. I plan to invite him over to dinner.
Nico:
What a coincidence, my friend is here too! We should call them both over today, introduce them to each other too..
Didi:
What's his name?
Nico:
Kebap power Mümin.
They burst into laughter when they found out that I alone was the guy they both knew. They were still laughing when they called..
I planned the meet up and immediately got driving on my way. They both worked at the climbing gym in a small village called Arnas. Seeing a new wall wouldn't be bad..
The wall in Arnas: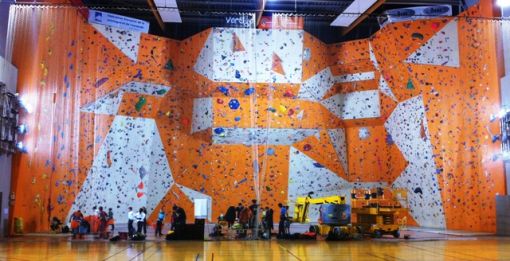 When I first saw it I thought:
In Adana it's impossible to have half a portion of anything, one and a half is just normal.. Here everything is a large bite, wouldn't go down your throat, you'd suffocate.. I'm staring at my friends' gym, appalled.
Mumin are you ok?
I'm appalled, smack me and I might get my mind back straight.. The wall is so impressive..
My friends as a group of four routesetters had been setting new routes for the French national team for five days. Some relied on technical difficulty, some demanded strength, some were based on stamina.. two lifts had been rented, four routesetters paid for and they were trying to finish preparations by changing routes on the wall before the team arrived. By the way the wall is 12m high, 40m wide and with perfect angles, plus it has a standard speed wall and permament speed roures. It covers 70 routes from grade III to 9a. I will not mention the bouldering wall just next to it, so big..
Getting over so much shock took me almost half a day.. the most impressive of all was some of the holds I saw on the wall.. I tried quite hard to demount them and take some home but with no success.. Apparently I didn't have the license for the lift they used for routesetting.. Man I drive trucks even, this is nothing.. come on..
Life standards in France are very high, climbers are on new climbing walls all the time, training with their coaches and mentors on new routes. Despite all they have, they don't realize how precious the things they have are as they train 10 hours a week.. They say you understand the value of things once you lose them.. But climbing is so much more advanced than it is with us, losing is out of the question.. One wonders if we had all this, could we have been a larger community of climbers? Would the level of climbing be higher? Or would be like them here.. who could know.. Sometimes seeing more is a burden, it gets you wondering.. Wondering got me tired and hungry. When do we go eat?
With the new generation champion Nicolas Nastrong, old champions and valuable climbers of the time Daniel Du lac, Raphael Cabane we had a long dinner at a nice restaurant, a wonderful conversation and sips of wine.. The dinner table with deep talk gave me peace along with confusion.. Meanwhile with the insisting of friends I had a bit too much of the wine.. As I tripled the two glass limit for driving, getting caught by the police in a borrowed car was the last thing I'd ever want.. My friends' remarks 'You're Turkish, you'll get around the police stuff somehow' meand I should get my practical wits working.. My plan was to take side roads to not pay for the highway and not run into the police.. They wouldn't be around so late at night anyway..
But BİNGO!!! I got caught.. Heavily drunk..
This conversation happened in French:
Me:
Good evening. How are you monsieur?
Police officer:
Good evening (Stuff I didn't get..)
Me:
Sorry I don't speak French, can you repeat in English?
Police:
Yelling, discussing with colleagues, deep silence.. Result: Noone speaks English..
Me:
You documents want?
Police officer:
Yes
Me:
Handed in the documents and just kept on talking in Turkish nonstop:
Oh Mr. Superintendent they made me drink, I'm innocent, they told me to drink, they said it would be ok, the police wouldn't mind, you are a tourist, I am an athlete, I don't drink, and I am named Mumin (believer, faithful).. Don't mess with me, the car is borrowed, what will I tell the owner, looks phonecalls are so expensive here, I can't call, can I use your phone? Please let me go home, it's late already, kids will be waiting for me, worrying, wife nagging, let me go.. Superintendent let me go.. I should go.. Please please please..
Poor guy couldn't understand a thing when I talked nonstop in Turkish for seven and a half minutes.
I think he replied saying something like:
Go away, don't get in my sight again..
In an  attempt to sum it all in a word:
I am so LUCKY.. No point in taking so much risk next time..
I never got to take lessons off some things in life, and actually liked to push borders.. The next day I *drove* to the gym, again drunk.. It is impossible not to have wine with lunch.. Thank god this time I'm in control and am raising my glass against the wall.. I get done with the hard moves on the bouldering wall and run to the routes on the higher wall.. Quickly warm up on a bunch of 7a,  7b routes.. then there are some 8a and 8a+ routes I had had my eyes on for two days.. After a rest I climbed quite well that day.. After such intense and good climbing I rewarded myself with a sauna session and get moving towards home.. I couldn't sleep until late pondering all night over the things Daniel said to me.. Should I do the things he insistingly offered?
Duing my climbing past of 12 years I travelled not a lot but a bit, kept wandering on the road.. But I still have fears.. It is still very difficult to have the courage to make some advances.. Could I handle so much risk? Could I manage to live in Europe with very little money? I had to get a bit higher within the flow of life but had fears, that was something else..
Daniel wanted me to come visit him further south, said I could stay at his place and we could go climbing, and even that I could take his car to anywhere I wanted.. When coming from Turkey I had 70€ in my pocket and had spent 30 of it in a week.. Going to the south by train is 60€, I had 40.. What to do?  When getting on the road a person feels one thing, when on the road another.. They say what matters is to drink off the right fountains and travel with the right people.. The most difficult part is when you need to first get on the road to do these..
In Europe some people who do not want to travel by car alone take passengers through www.covoiturage.com  for small prices.. I used this service on March 25th 2012 to go south to Montpellier. Daniel met me on the way and started making plans for climbing along with a beautiful dinner at his place. To go out to historical climbing areas, to climb.. Legendary climbing areas, full of legends.. Couldn't sleep through the night because I was just too excited, the room I was in was full of medals, cups and gear.. How could you sleep?
After a sportive bereakfast in the morning we went to Claret climbing area with a short trip. The area has great importance in French climbing history, has hosted the best routes and best climbers of their time. The rock is limestone and has around 250 routes. Every part of it is like aged wine, smells of history.. because climbing has been widely done for a long time you can run into people climbing even on Mondays.. We spent the day climbing till evening in the holy lands and finally having wine at the city square.
The general view od Claret's rock band: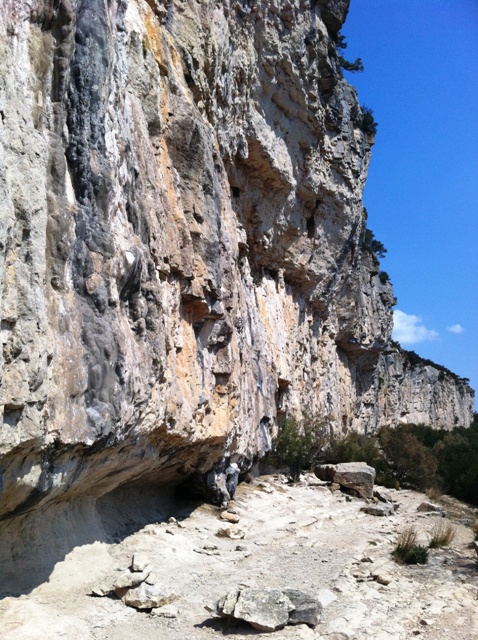 On Tuesday Nico and I met to go climbing at aint Guilhem le Desert. This area with scattered sectors within a valley formation behind hills reminded me of Çakıt.. On places we would never bother to set routes, there is rock that people walk to using fixed lines.. In this area with an alpine setting some locals who come to hunt in the limestone canyon structure have forbid climbing, but despite the so called prohibition I ran into several climbers living in the area on weekdays in caravans.. Chasing shade in the sectors all day I tried all the classic lines.. We climbed till I couldn't walk anymore..
A view of Saint Guilhem le Desert from a distance: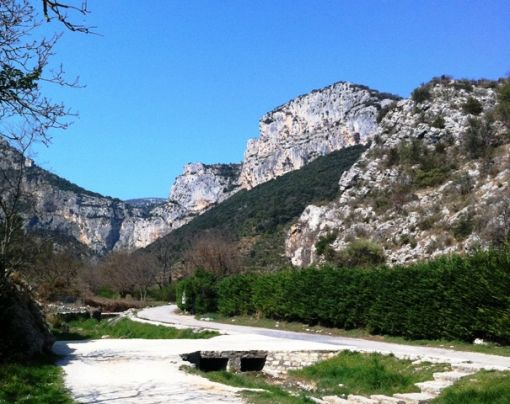 The the settlement closest to the climbing area, Saint Guilhem le Desert, could be the most beautiful village I have ever seen. It has become quite popular due to its historical atmosphere but has not lost its unique feeling..  The terrace ornaments of masonry buildings next to each other, the colorful window shutters, the peaceful characteristic narrow stone alleys.. The cathedral ornamented with the gigantic plane tree the slowed-down lifestyle kept from aging for years.. It's the kind of marvelous place one could want to spend the rest of his life, live a life full of peace.. Walking around the village after climbing calms you down.. after we enjoyed a beer in peace below the giagantic plane tree in the village square, leaving got me blue but we said 'au revoir' for a goodbye..
A view of the village: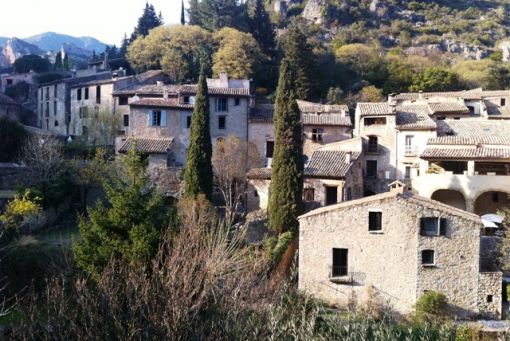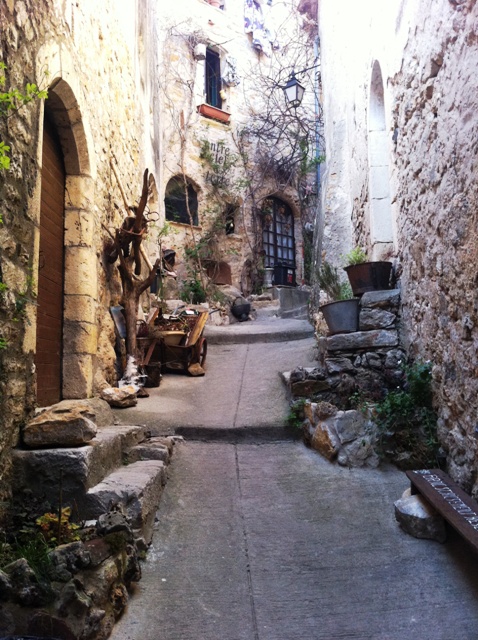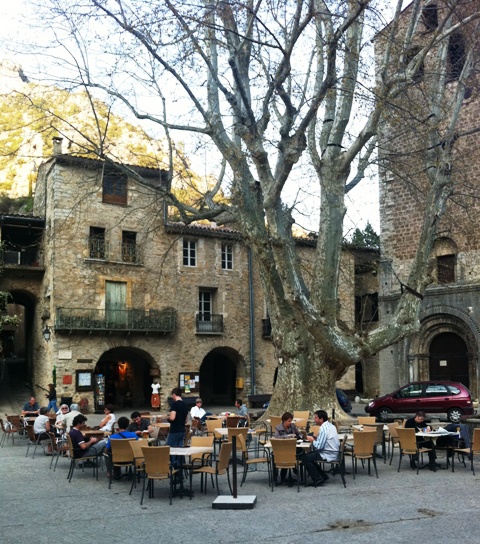 I spent the rest of my days in Montpellier climbing at various gyms in the city.. Each was a shock on its  own.. they are all so impressive, the day I had to board my plane I took all my stuff to the gym so I could climb just until I'd leave for my flight.. The company Altissimo has ten gyms around France.. I had the chance to visit two different gyms in Montpellier and climb.. You can visit www.altissimo.fr  for more details..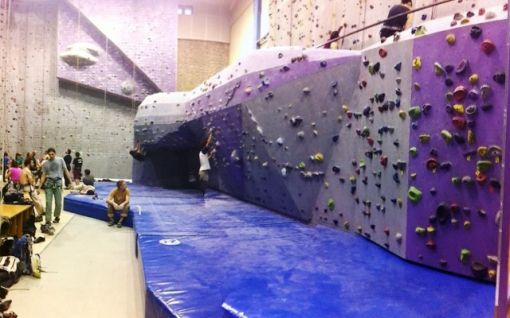 Everywhere you look there are climbing walls, gear shops, climbing areas and mountains.. Climbing established years ago and advanced, spread very widely.. Everyone knows something about the sport of climbing and does some sport.. For a lifetime of sport everyone has an activity as a hobby.. Mark the village paths that seem the most insignificant as paths and document them in books.. Therefore everything is designed as ready and easily accessible… Climbing with its years of history is way more advanced in comparison to our country.. I wonder how it will be at home years later..
I threw myself to the waters of the southern beaches thinking 'climbing and then climbing, is that all?' and went sightseeing, beach hopping, visiting friends, shopping on the rest of my days.. Especially the coastline near Montpellier has an incredibly beautiful nature. The cathedral that remains sturdy from history is magnificent.. the vicinity of the sea to the city draws people to the coast during good weather, so it was a good weekend for picnics, swimming and meeting the history of the place..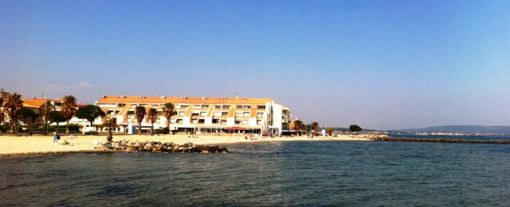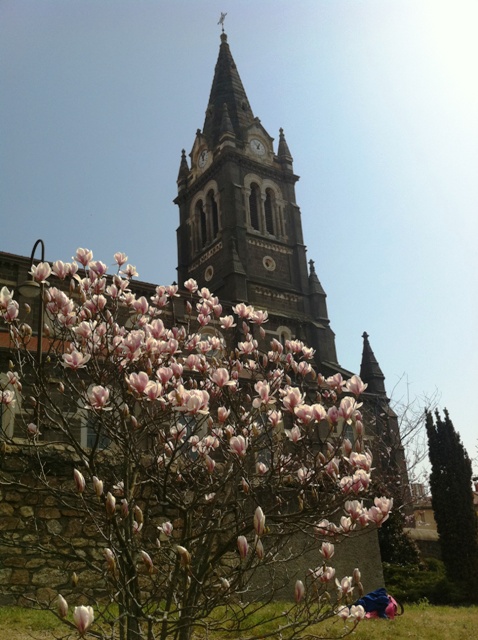 The expensive European life I was always afraid of throughour years went better than I expected as I met the right people and got bits of support.. Even though I had the opportunity to do this with the friends I made in Geyikbayiri I was reluctant for years.. Now I will try not to lose more time and share more with people, stay there for a while, abroad.. This will be the writing to follow..
Thanks to all my friends chasing the same dreams as I and helping me actualize mine..
With love..
Small notes for life in France:
Watch out for your expenses as life is a little more expensive than the rest of Europe.
The food is incredible. France has about 1500 kinds of cheese and so many different tastes of wine that I don't remember the number. Watch the alcohol consumption as drinking wine is a part of everyday life, if you have breakfast with alcohol like me, it gets hard to pull the rest of the day together..
The dinners can last for hours starting with appetizers and moving on to the main dishes. Especially the meat is served rare done. Some seafood is eaten raw. I have a story with the raw food I imagined to be a mussel but turned out to be a clam..
It is possible to find direct flights to several cities in France. For example: on return I got a 50€ ticket from Marseille to İstanbul direct. I used the hitchhiking service I mentioned above without problems to the airport, but some airports are very far from cities so better keep that in mind..
Southern France gets a lot of immigration and life is a little active and messy, so  it may be good to watch out.. Arabs, Africans, Turks and people of many nationalities come and live here so it's a bit more complex than the typical French way of life.. The south is something else everywhere..
The city has so much to offer for shopping and history so when making plans to climb it may be a good idea to leave a lot of rest days.